Choosing the Right Neighbourhood
Architects and designers have learned a lot about how we live and exactly what makes living a memorable experience. From fixtures to design elements to construction materials, homes are now lavish places to live, work, and play. Here are a few essential features every modern abode should have.
Gourmet Kitchens
What exactly makes a gourmet kitchen, gourmet? It's that they don't just make cooking and baking a breeze, they make it an enjoyable part of your day. Soft-close doors bring a certain peace and quiet. An island with generous counter space makes entertaining while cooking easy. A built-in coffee maker and a wine fridge are indulgences you didn't know you needed. Plus, the crème-de-la-crème of gourmet kitchens: a walk-in pantry that keeps everything organized and out of eyesight. Designed with function and form in mind, a gourmet kitchen to fit your cooking style is a must-have in any modern home.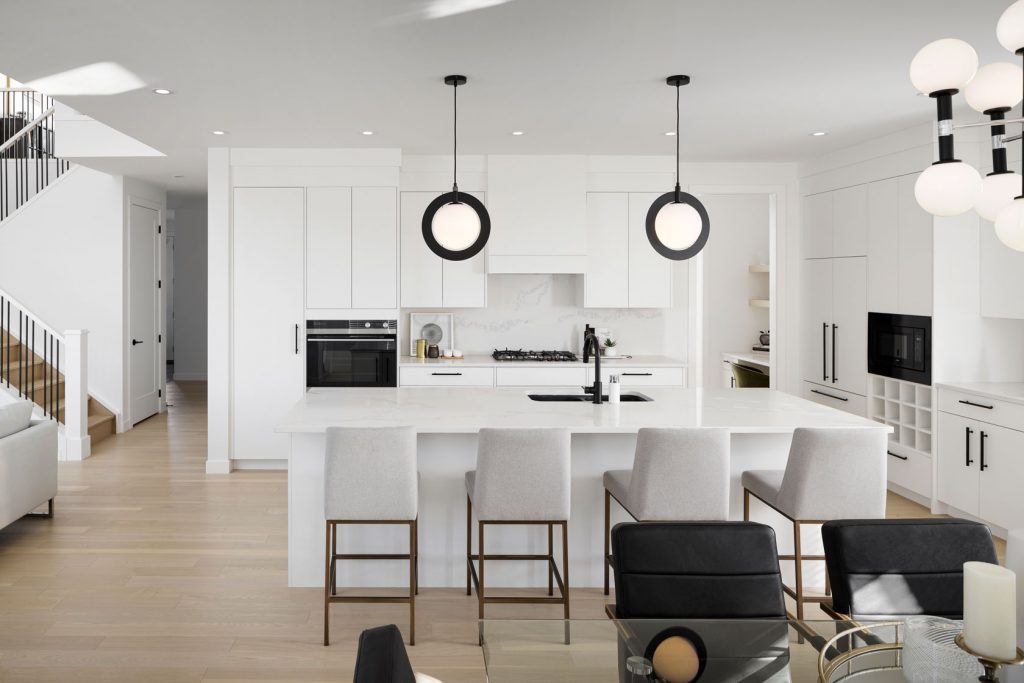 Spa Bathroom
The second place you'll want a luxurious experience is your bathroom. There's nothing quite like stepping into a spa-like bathroom in the comfort of your own home. From spacious showers to soaker tubs, to expansive vanities and elegant fixtures, you'll be able to relax in this cozy spot like kings and queens.
Designer Closet
Closets are no longer a place to just store your clothes: they've become a showroom, a catwalk, and a lounging getaway. With a designer closet you get to appreciate every piece of clothing you own. Starting with your favorite pieces on display and ending with keeping tidbits tucked away, your closet becomes a place that you'll be happy to spend more time in.
Plenty of Natural Light
Arguably the most dramatic change to homes in the modern era is ratio of windows to walls. Instead of one or two small windows in a room, many condos and houses are filled with large, sometimes even floor-to-ceiling windows. We all know that fresh air and sunshine are game changers, and modern designers thankfully recognize this. Having a home with plenty of natural light can bring us closer to nature and makes those gloomy days a little less gloomy.
Ample Storage
Something that you'll see in most modern homes, is less. Less stuff out on counters. Less stacks of paper. Less clutter in general. We can thank well-designed, out-of-sight storage for that. Cleverly hidden closets and drawers make it easier to keep modern homes clean and organized, and we're big fans of that.
Quartz Countertops
As much as we love granite, quartz is really where it's at. Quartz countertops beat the competition in terms of colour variety, durability, maintenance (it doesn't require sealing), and cleanability (since it isn't porous). Plus, quartz is a recyclable man-made stone which means it wins big points in the sustainability column when compared to natural stones. Quartz has a lower environmental impact because the mining process is less intensive, and because countertops are shipped shorter distances (think carbon footprint). Quartz can be found anywhere from the ceiling of your bathroom to the centerpiece of your kitchen, the island.
Timeless Design
'Timeless' translated is sophisticated, understated, and classic design elements. Those include things like clean lines, neutral colours, high-quality materials, and traditional patterns. Many modern homes take these fundamentals into account, which appeals to homebuyers that are planning to settle for twenty to thirty years. Crafting modern homes with timeless elements is a sure-fire way to improve resale value and avoid extra renovation costs down the road.
Energy Efficient Fixtures & Appliances
Though not a sexy design feature, energy efficient fixtures and appliances are part of what makes modern homes so much more livable. With well-sealed building envelopes and low-emissivity windows, heated or cooled air stays inside and reduces energy costs. Plus, energy-saving and water-conserving appliances like dishwashers, ovens, cooktops, and laundry machines are a win-win for any homeowner: a lower bill and a lower carbon footprint.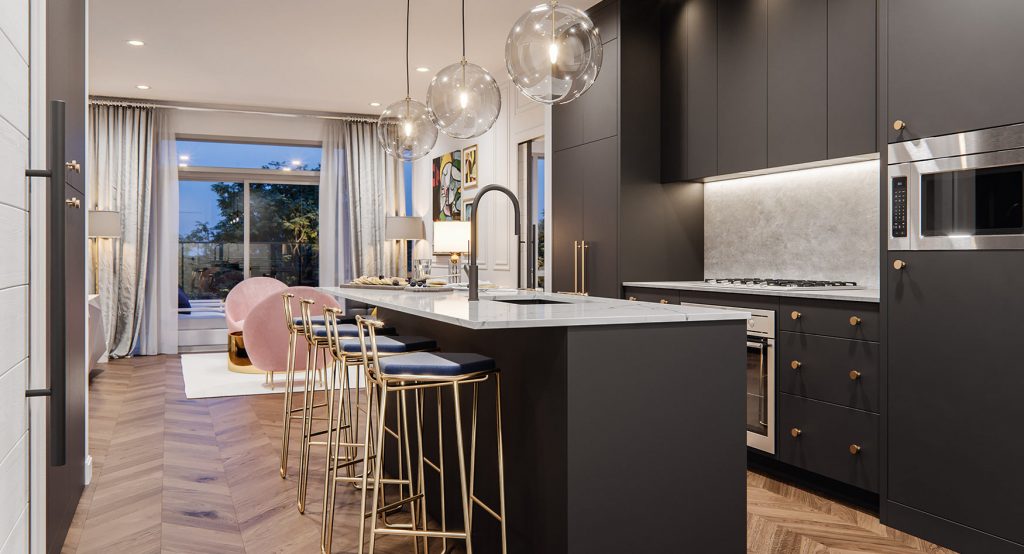 The Best Part
The designers at Truman know these eight features very well. That's why you'll find these elements in Truman Homes' buildings all across Calgary. If you'd like to see them in action, check out Parkside condos in S.W. Calgary – fit with all those must-haves, and more.