For over 35 years, Truman has been building properties of exceptional quality and distinguished craftsmanship in Calgary and surrounding areas with the core belief that everyone can Live better.®
Our vision is to make this a reality by challenging ourselves year after year to raise the industry standard through; innovation, quality and value. This has enabled us to enrich the lives of families we touch on so many levels as we build for you, our family. Through our dedicated builders and artisans working hand in hand with our clients we design and build world-class residences, mix use and commercial developments.
Specializing in executive and contemporary, country estate and suburban single family homes, suburban and urban multi-family developments our skill sets have grown to flagship offerings in the mixed use and retail development sector. Our construction, design, and community engagement practices have helped create many successful developments in Calgary, and these practices continue to put Truman at the forefront of the development industry in Calgary.
Truman has a matchless reputation for quality, superior workmanship and attention to detail. We at Truman believe that by following traditional design approaches, it enables our experienced and courteous team members to offer our sought after expertise to you, our valued customers.
As a Master Home Builder, Truman is truly Calgary's builder of choice for today's new home buyer, combining over six decades of experience into creating timeless developments for all to enjoy. Our extensive experience enables us at Truman to genuinely go a step beyond refined construction, by expressing a sincere care for the customer and community, for these are what make our developments complete.
Truman has proudly partnered with many non-profit organizations and has become a major partner in providing affordable home ownership to as many Albertans as possible. Truman has provided over 350 brand new homes to deserving Albertans through these partnerships, and through our commitment to affordable home ownership Truman has pledged up to 25% of all the product we produce in Alberta to be dedicated to such organizations helping to close the affordability gap.
Can you Live better?® We believe that with Truman…Yes You Can!®
Truman is the proud winner of the Buyers Choice Award and is rated Highest Among Purchasers for customer satisfaction!
With over 50 awards to our name, all of us at Truman are proud of the support our customers have given us. We are proud of providing bespoke customer service coupled with unprecedented value, lavish interiors, and inspired architecture to our clients through the communities we build in.
Maintaining strong relationships with our customers is the most important aspect of what we do. It is through these relationships that our team continues to strive and lead the industry to new levels of customer service and awareness.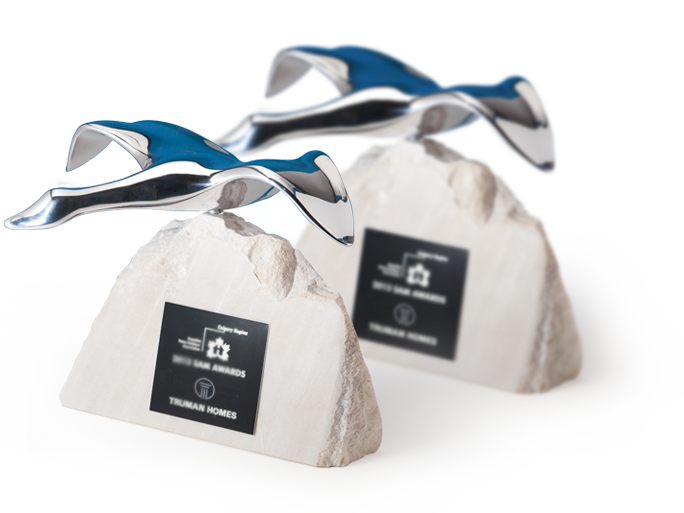 Being that Truman is a family run company, we pride ourselves on the attention that we give our customers and our developments.
Diligent during every phase of the building process, the Truman team attentively consults with our clients to individualize and exceed their expectations. We understand our client's investment with us is a reflection of a client's needs, personal styles, aspirations. These unique particulars and conveniences are then incorporated into all the work we do. After all, it's about living better.
George Trutina
President
Peter Trutina
Vice President – Land Development
Tony Trutina, MBA
Chief Operating Officer
CCIM., Broker
Adrian Hornett, CFA
Chief Financial Officer
Brenda Thibault
Controller
Samantha Lancaster
Operations Manager,
Privacy Officer