The Virtual Reality of Real Estate
If you've been perusing MLS.ca recently, you've likely come across more listings that look perfect, courtesy of their virtual components. This is thanks to new technologies and their widespread use following the pandemic.
Here is an overview of what those technologies are, how we're using them, and what the future holds for virtual reality in real estate.
Virtual Realty Technology
It's useful to note that 'virtual' reality (VR) is a completely immersive experience where everything in sight is simulated, whereas 'augmented' reality (AR) adds virtual characteristics to a live view. Where you'd interact with virtual reality online, augmented reality would involve you physically walking into a home with a headset on and seeing virtual elements in an empty space.
While both are valuable, current technologies focus on virtual reality to conduct tours or alter the look of a home's interior and exterior with staging. 
Virtual tours are a combination of video and photos that take the viewer through a home at their own pace, in 3D. This makes it much easier to understand the layout without having to be physically present. 
Virtual staging can be done in a few different ways, depending on the condition of the home. Option one is staging bare-boned rooms by adding fake furniture and decor that suit modern tastes. Another is virtual remodelling where designers can virtually 'gut' and upgrade a room to show its renovation potential. The last option is virtual replacements where the room physically stays the same, but paint colours, decor, and furniture are virtually swapped out.
How We Use These Technologies
At Truman Homes, we're leveraging virtual reality to make the buying process easier. 
Our team shoots high-definition video home tours that take viewers through the entire home in an immersive way. However, we shoot the 'live' home, meaning that all of the elements you see are real and not 3D-simulated. In a video tour, you get a more in-depth sense of the entire home, which is hard to replicate with photos. Where pictures capture rooms well, video captures the feeling of moving through a space.
We also have virtual tours, which are similar but not the same as video tours. A virtual tour lets viewers click through rooms, swivel, zoom, and measure dimensions at their own pace. It's an interactive tour, similar to Google Street view, but just inside a home. This is a great tool for buyers that want to take a slower, deeper look in rooms, measure wall distance for furniture suitability, and get a full 360-degree view of the interior. 
Virtual home tours and video tours make it easier for buyers to compare multiple properties without having to physically attend open houses, model homes, or private showings. The idea behind AR is to gauge the emotional appeal of a property without being present. Translated: a lot of time and effort saved in a process that can be all-consuming.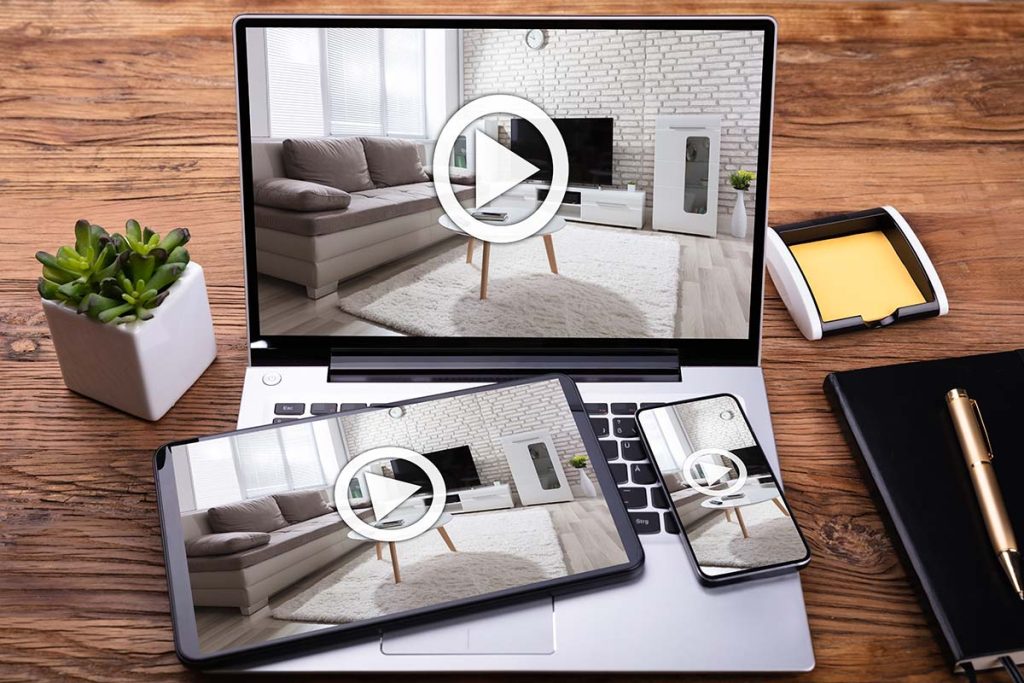 The Future of Virtual Reality in Real Estate
Goldman Sachs estimates that the market for virtual reality in Real Estate will generate nearly $2.6 billion by 2025.* With an outlook like that, AR/VR will see a lot more investment by companies and interest from real estate agents. 
We'll likely see more virtual headsets and the use of augmented reality apps on smartphones in the future, especially as competition drives innovation. Scientists are even working on simulating taste, smell and touch through AV/VR, which means a virtual tour will soon feel like a physical tour.